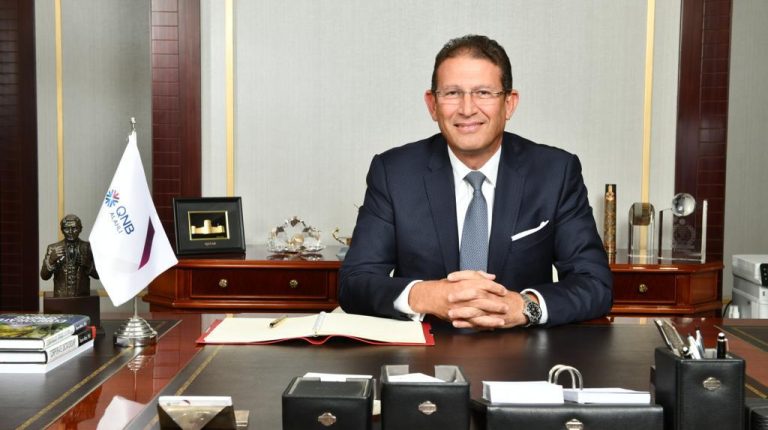 QNB Al Ahli Exclusively Offers Unique Banking Solutions Reflecting Socioeconomic Considerations
Mohamed Bedeir: QNB Exerts Efforts To Propel Green Economic Transition As Part of Ambitious Sustainability Strategy 
Cairo/ November 2022
QNB Al Ahli is taking part in COP 27 which Egypt is hosting in Sharm El Sheikh during the period from 7 to 18 November which is witnessing broad participation of international institutions. As a subsidiary of QNB Group, the largest financial institution in the Middle East and Africa, QNB Al Ahli presents the group's efforts in support of climate action through offering finances and technical support for encouraging corporates and entrepreneurs to establish multi-sector green projects.
In this regard, QNB Group is considered a pioneer in sustainable financing for both corporate and retail sectors. Hence, QNB Group took the lead as the first Qatari bank ever to issue green bonds at a value of $600million. Further, it issued the first green private placement investment worth USD 50 million between QNB Finansbank A.S. and European Bank for Reconstruction and Development (EBRD). In another unprecedented step, QNB Group participated in the first green repurchase agreement (REPO) in Qatar.
As QNB Group's subsidiary, QNB Al Ahli set an ambitious sustainability strategy that entails:
Firstly: Reaching partnerships with major development institutions to provide adequate finance programs to support business owners to cope with and promote the transition to the green economy, including
Successful Partnerships with the World Bank and European Bank for Reconstruction and Development (EBRD), backed by the European Union and the Green Climate Fund. The cooperation portfolio between the EBRD and QNB Alahli to support the green economy reached more than USD 170 million. Accordingly, QNB Alahli has been the first bank in Egypt to cooperate with EBRD in several green and sustainable finance programs in foreign currency. This is in addition to providing technical support and investment incentives, as the bank managed to offer finance packages for projects, mege companies, and SMEs operating in various sectors.
Secondly: Signing International Agreements On Environmental Risk Management
QNB Alahli became a signatory of the United Nations Principles for Responsible Banking.  The principles focus on scaling up the risk management concept to include environmental and societal risks, along with encouraging banks to increase financing for eco-friendly projects, in support of financial inclusion and digital transformation; in addition to applying the highest standards of governance and transparency.
Thirdly: Supporting QNB Al Ahli clients and enabling them to implement many green and sustainable projects
QNB Alahli carried out several successful models in supporting sustainable financing for its clients and helping them adapt to climate change through a range of innovative financial solutions.
Offering financing packages for several mega-companies and SMEs in various sectors, including the industrial, agricultural, commercial, and service sectors, as well as the residential sectors that implement green projects. Such as loans granted to establish solar power plants, waste management, and recycling companies to convert waste into alternative fuel. This is in addition to projects for resource optimization, energy, and water.
The bank has also supported many promising agricultural companies by granting loans to finance the development of modern irrigation networks in different regions.
The bank is also always keen to support SMEs to enhance their positive role in promoting the economy, as the bank succeeded in allocating about 26% of the total credit portfolio for financing these projects, which exceeds the targeted quota set by the Central Bank of Egypt.
Within the framework of QNB Alahli's policy to attract talents, the bank launched the fourth edition of the business incubator within the framework of the Nile Pioneers Initiative, which is sponsored by the Central Bank of Egypt and implemented by the National Nile University. The edition was launched under the slogan "Sustainable Product Design Towards achieving sustainable development goals and Egypt's Vision 2030". It aimed at exploiting the potential of innovative youth to contribute to establishing new projects, deepening the local industry, and creating job opportunities, thus contributing to increasing economic growth and achieving sustainable development. QNB Al Ahli is one of the leading banks to participate in the Nile Pioneers initiative, and it has a pioneering and remarkable role in supporting a large number of entrepreneurs and providing successful models for innovative ideas and sustainable start-up projects. The Bank also recently opened 5 business centers in the framework of supporting entrepreneurs in Shebin El-Koum City in Menoufia, New Damietta City, and Beni Suef Governorate. These centers spread awareness for owners of small and medium enterprises and entrepreneurs.