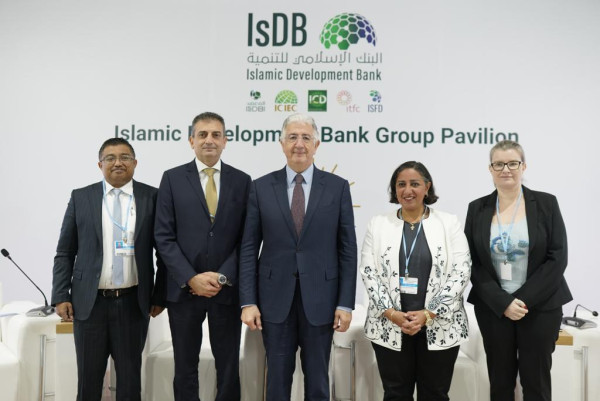 On the sidelines of the ongoing 27th United Nations Climate Change Conference (COP 27) in Sharm el Sheikh, the International Islamic Trade Finance Corporation (ITFC) (http://www.ITFC-idb.org), a member of the Islamic Development Bank Group (IsDB), organized a joint session with United Nations Industrial Development Organization (UNIDO) Egypt titled 'Egyptian and Sub-Saharan Africa Cotton Traceability for Resilience and Sustainability.
This session highlighted the strategies for boosting the ability of value stream participants to fully realize the potential of the climate-resilient textile and cotton sector in Egypt and Sub-Saharan Africa while increasing competitiveness and integration in regional and global value chains.
Egyptian cotton is mostly renowned for its outstanding physical fiber qualities, exceptional aesthetic performance, and unmatched durability.  However, in the Egyptian cotton-textile value chain, cotton is both a contributor and a victim of climate change. In response to these challenges, the UNIDO multistakeholder project, "The Egyptian Cotton Project," supported by ITFC, began supporting Egyptian farmers in June 2020 to execute a methodical strategy for sustainable cotton growing as advocated by The Better Cotton Initiative.
On the regional level, evidence shows that the main issue of the African cotton and textile industry remains the low level of local processing of the fibre and the valuation of by-products.  Despite some issues in the cotton and textile sector, the African Continental Free Trade Area (AfCFTA) which came into force on January 1st, 2021, offers a large market of more than 1.3 billion consumers, as well as several business opportunities. This large market should further stimulate industrialization and investment opportunities in the cotton value chain.
Moderated by Ramamurthi Krishnan, Advisor, Abc Oqqo'gr Agro Cluster Limited Group of Companies, the Panel Discussion was joined by Aymen Kasem, Division Manager, Trade Development, ITFC, Dalia Tadros, Director of Operations, Industrial Development Group
Representing Ministry of Public Sector (Ex- Assistant Minister of Public Business Sector of Egypt), Sara Berlese, Program Officer, UNIDO Regional Office in Egypt; and Babajide Sodipo, Senior Manager, AU/AfCFTA Relations at Afreximbank.