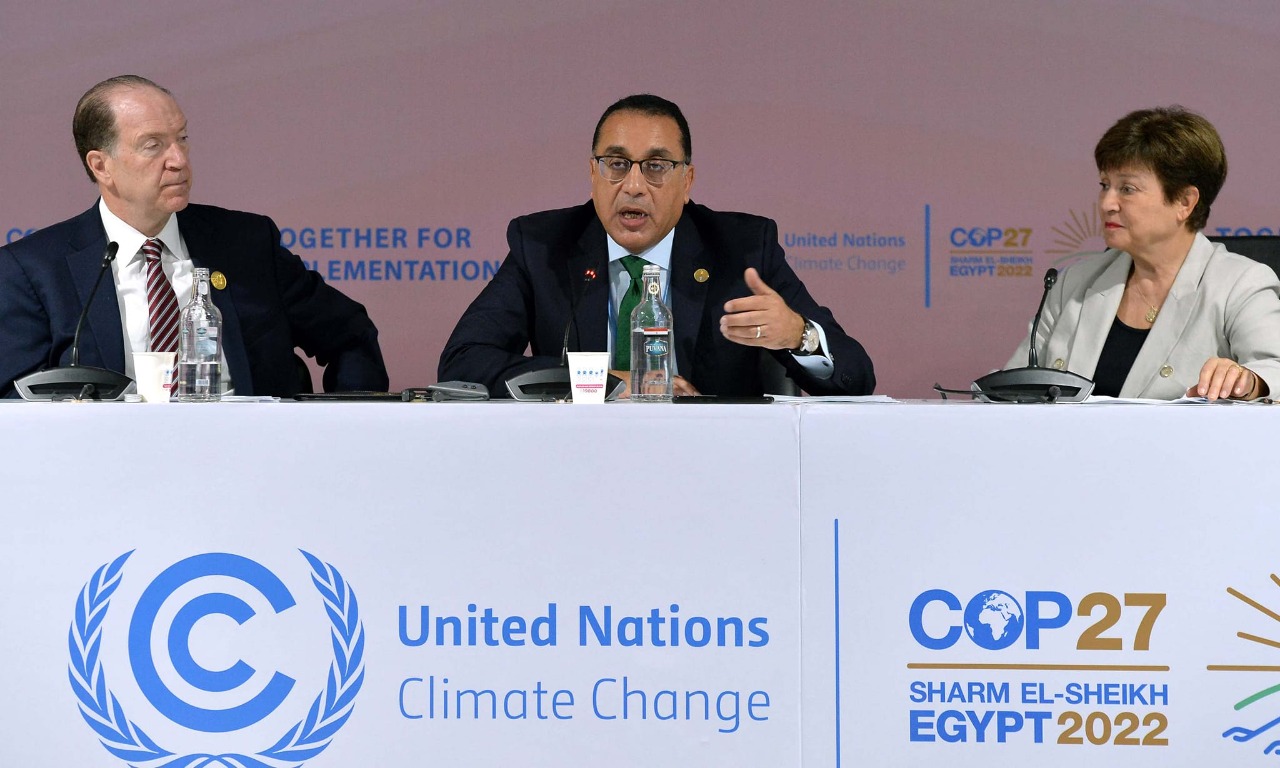 High interest rates and limited access to international lending markets make it difficult for African countries to raise funding to protect their environment and economies from the risk of climate change
Dr. Mustafa Madbouli, Prime Minister, opened the "Funding Day" events, organized by the Ministry of Finance in the Egyptian wing in the Zarqa region, as part of the climate summit meetings hosted by Egypt during the period from 6 to November 12 in Sharm El-Sheikh.
The inaugural session was attended by Dr. Mohammed Maite, Minister of Finance, Mr. David Malbas, President of the World Bank Group, Mrs. Kristalina Georgieva, Director-General of the International Monetary Fund, Mrs. Zeinab Ahmed, Minister of Finance of Nigeria, and Dr. Mahmoud Mohiyedin, Climate Leader of the World Bank, Egyptian Assa, United Nations Special Envoy on Financing Agenda 2030, Mr/Mark Carney, United Nations Special Envoy for Action and Climate Finance, Mrs Odell Reno Paso, President of the European Bank for Reconstruction and Development, Mr Kem Steiner, Director of the United Nations Development Programme, and a number of stakeholders on climate financing issues.
At the outset of his speech, the Prime Minister welcomed Sharm El-Sheikh, Egypt's first green city, noting that this rally on the sidelines of climate change summit meetings, which are evidence of the correlation between financial policies and climate issues, Thar her role on countries resources, especially Developing it, therefore at the level of financial resources available to governments, adding that it has become a crucial factor in supporting climate change efforts at both levels: mitigation and adaptation.
Solidarity between all parties is an indispensable option, Dr. Mustafa Madbouli explained, since cooperation between governments, civil society, UN agencies, international and regional financial institutions, in an integrated and coherent path, is the shortest and least costliest way to robbers And to the success of efforts to combat climate change.
The Prime Minister said that "Funding Day" was gaining significant importance as a parallel event to the climate conference, emphasizing Egypt's keenness as conference president to prepare well for today's meetings through an intensive programme including discussions on various topics related to financing initiatives Motivating, encouraging the private sector to transform to a green economy, and achieve a transition Adel achieves social and economic dimensions, so that development efforts are given priority to human welfare, which is the goal of all governments across the world.
These efforts should not add more burdens to citizens especially in developing countries, who take no responsibility for climate change disasters, Madbouli added. We hope our partners in developed countries fully realize the need to fulfill their previous commitments in this regard To the trap.
Dr Mustafa Madbouli said: Our world is witnessing an unprecedented series of global crises with multiple effects. Since 2019, humanity has faced an outbreak of coronavirus, followed by economic shock from the Russian-Ukraine conflict, rising food and energy prices, and so on This is from the high inflation rates, in all the world's economies, which It has led to a significant slowdown in global economic growth, increased humanitarian problems and prolonged crises. Therefore, finding a way out of this requires global solidarity that puts the interest of humanity above all other considerations.
Madbouli continued his word: From this perspective, the success of today's discussions depends on the collective ability to present serious, effective and feasible initiatives.
The Prime Minister announced that the Egyptian Ministry of Finance will co-operate with partners to formulate two initiatives, discussed today, related to easing climate change debt exchange and lowering the cost of green borrowing, in line with the Paris Agreement and Glasgow findings, specifically with regard to loan financing How, obviously Egypt hopes to translate these initiatives into serious commitments, Along with other ideas the participants may put up, to positively impact and help provide additional resources to developing countries, especially African, Egypt is hosting the conference on their behalf.
The prime minister pointed out that it has become clear that the planet's economic future is in grave danger unless we can ensure all economies respond harmoniously against the ongoing change we are experiencing in our climate, illustrating what estimates are about 4% of global economic output Annual may miss a solution By 2050, low income and lower middle income countries likely to face these losses.
He noted that significant financial resources are needed to reduce the effects of climate change on our planet, and this number could increase if the necessary measures and policies are not moved and implemented to mitigate the climate crisis.
Madbuli continued: Despite these facts, efforts over years of pledges and commitments, as well as frameworks and mechanisms, climate financing has not been sufficient in terms of quantity and type, with commitments unfulfilled at times when economies need better and easier access to Funding needed to alleviate the climate crisis Our world and its adaptation
He pointed out that African countries in particular are facing enormous challenges in this area, especially as the economic crisis continues, high interest rates, limited access to international lending markets; making it difficult for African countries to gather the necessary funding to protect their environment Protecting its economies from the danger of climate change, certainly Egypt is ready to discuss All the ideas and initiatives aimed at making a jump in climate funding efforts, in line with our leadership for international climate action as conference president.
The Prime Minister concluded his speech, emphasizing that funding is the cornerstone for fulfilling national commitments towards the transition to a green economy, and that the current situation of the global economic crisis and the challenges it poses are key points that should be discussed and solutions found, including The need to achieve a balance between adaptation and mitigation, Lafta witnessed it Yesterday a number of funding agreements were signed within the Novi platform, which included a number of projects in a range of different sectors, as the platform is an important step towards starting implementation of commitments towards climate action, as well as part of the national strategy for climate change.
On his part, Dr. Mohamed Moait, Minister of Finance, explained that the Financing Day in which Egypt brings together a number of international financing institutions, world banks and other stakeholders on climate financing issues, where participants are scheduled to discuss the introduction of the financing day, the creation of the tools and systems of the funded financing Tucker and facilitator to reduce the cost of transformation to green economy, In a way that contributes to easing the response to the effects of "climate change" especially in African and developing countries.
Climate change is a danger threatening the whole world, countries cannot successfully work on climate action without teamwork, at the country level, international funding institutions, and development partners, a sign that there is no time to waste, as we must work together on Implementing our commitments towards climate issues.
For his part, the United Nations Special Envoy for Action and Climate Finance stressed the importance of partnering funding from private finance institutions to fill the gap existing for implementing sustainable projects.
Speaking during the inaugural session, Dr Mahmoud Mohiyuddin noted that the climate summit COP27 is the right opportunity to build credibility towards working towards implementing global commitments towards climate change and reducing carbon emissions, asserting that the most important step now is to fill the gap Current to finance the projects we aspire to do.
In her speech, Kristalina Georgieva made it clear that the need to implement climate action commitments must first work on further reduction of carbon emissions and allocate a higher rate of investments in sustainable areas than global GDP.
She added: We should work together for a better future for our children. When you look at the picture of your baby, you should think hard about what you need to do to protect it, referring to the need to protect our planet for generations to come.
And she concluded with: We must do the right thing.