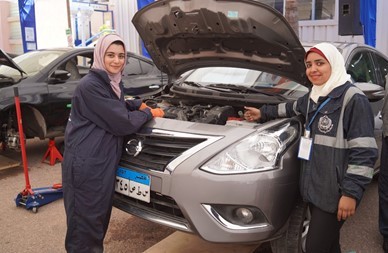 Societies prosper when women and girls have equal rights and access to resources and services. Through the U.S. Agency for International Development (USAID), the U.S. Government is assisting Egypt in reducing gender inequities, empowering women and girls, and creating a future that is economically secure and sustainable.
Despite the efforts of USAID, the Egyptian government, and others, there are still major barriers to equality, particularly with regard to gender inequalities, violence against women, rapid rates of population increase, and high levels of poverty. The Global Gender Gap Index placed Egypt 134th out of 153 nations in 2020. In terms of women's economic opportunities and engagement, it came in at number 140 out of 153 nations. Compared to 65% of men, only 18% of women of working age participate in the economy.
Through a multidisciplinary approach in a wide range of fields and activities, USAID advocates for gender equality and women's empowerment in collaboration with the Egyptian government. Youth, women from low socioeconomic backgrounds or status, people with disabilities, survivors of violence against women and girls, and trafficking victims are the main targets of USAID's programs on gender equality and women's empowerment.
AREAS OF FOCUS
Supporting Women and Girls' Education
The learning, skills, and workforce preparedness of all students, including women and girls, are improved by USAID's basic, technical, and higher education initiatives. High-need adolescents now have more access to high-quality education because to scholarship programs, and intergenerational literacy programs in rural regions help both mothers and daughters learn to read.
Supporting Women to Succeed as Entrepreneurs
USAID assists female business owners in expanding their enterprises and increasing productivity. Training, business incubators, job fairs, and networking opportunities are used to accomplish this.
Enabling Women's Participation in the Economy:
Women confront a variety of obstacles, including as harassment, gender-based violence, and early marriage, that may deter them from entering the workforce. In order to lower job barriers, USAID is enhancing the legal framework surrounding these issues. Additionally, USAID helps GOE institutions, micro, small, and medium-sized businesses, and promotes information and communication technologies to help women become more independent.
Supporting Women as Emerging Community Leaders:
In order for women to be more influential in their communities, identify and respond to community needs, and resolve local conflicts, USAID works to increase the influence of women there. This is accomplished by involving young women and girls in intercommunity conversations, by enhancing the skills of community champions, and by providing secure environments for young girls.
Addressing the Impact of COVID-19:
To mitigate the socioeconomic effects of COVID-19 on women and girls, including increased violence against women, USAID implements activities that focus on the most vulnerable and marginalized populations. USAID funds communications campaigns to prevent domestic violence while bolstering support for hotlines and women's shelters.
NOTEWORTHY ACHIEVEMENTS
From 2019 to 2020, USAID sponsored Egypt's technical secondary schools, providing technical and vocational training to more than 58,000 female instructors, students, principals, and staff members. Over 4,000 young women were assisted by USAID during this time period in finding employment after graduating from technical and vocational schools
USAID helped establish the Women Entrepreneurs Network and Tiye Angels, the first women's angel investor network in Egypt, to provide financial and non-financial services to women. Accordingly, in 2020, over 1,200 women had new or better employment through USAID support and 363 women-owned microenterprises strengthened their businesses through USAID-supported Business Development Service centers.
In 2020 alone, over 220,000 women gained access to basic drinking water and sanitation services as a result of USAID's assistance.
Nearly 250,000 women in 11 governorates began using voluntary family planning methods as a result of USAID support for the National Family Planning Program from 2018 to 2020.
USAID provided leadership training to 14,016 rural Egyptian women to participate in community education and have leadership roles.
USAID trained 3,281 adult literacy facilitators, who engaged over 44,209 women in intergenerational adult literacy activities.
USAID provided 27,114 girls living in rural communities, using high quality, engaging learning environments in community schools. USAID provided food assistance to 40,000 vulnerable pregnant and nursing women and children, and connected 500 mothers who are under the social safety net system with micro-loans and business training so they can support themselves and their families.
Over the past 5 years, USAID provided 156 university scholarships to young women studying science, technology, engineering, and math.
In 2020, USAID investments in the Women Complaints Offices and the National Hotline supported a tenfold increase in legal cases filed.
By training more than 3,000 service providers and increasing the number of women and girls getting services each year from roughly 1,000 in 2015 to over 50,000 in 2020, USAID helped Egypt's national referral system prevent and address violence against women and girls.
To provide health, counselling, legal, and protective services to women and girls, USAID trained more than 3,000 members of law enforcement, medical professionals, and social workers.
To raise public awareness about all types of violence against women, including harmful traditional practices like FGM/C and child marriage, USAID financed the training of 14,000 community health outreach workers connected to the Ministry of Health and Population.