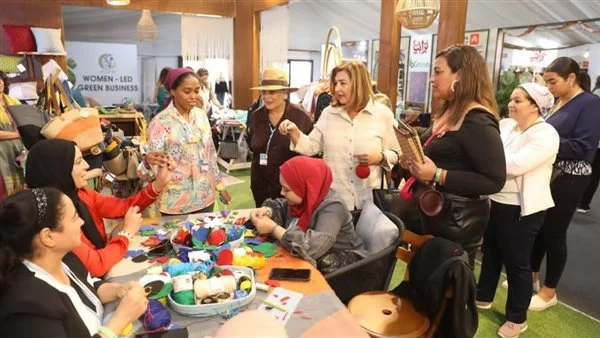 Rawya Mansour, Chairperson of Ramsco Environmental Villages, said that she started her own project 15 years ago, where she inaugurated her own center at the Egyptian Research Center in Ismailia and since then she has been trying to produce healthy food by recycling agricultural waste and has a patent in this project.
She said in a recorded speech on the sidelines of her participation in the COP27 climate conference, in Sharm El-Sheikh recently, that she also has a patent in the green charcoal machine, which is one of the only ways to eliminate heat emission, reduce its effects, and improve the soil.
Mansour added that this project has secured full-time jobs for 30 women and that she seeks an expansion in Africa, with the help of Dr. Maya Morsy, President of the National Council for Women.
She pointed out that the most marginalized group is the female farmers in the villages, asserting the necessity to work on improving their livelihood, which is what this project contributes to by training peasant women on this method of agriculture, and helping them achieve a green economy and reduce water consumption, pointing out that each ton placed through this machine reduces the percentage of carbon dioxide in the atmosphere by 2.5%, stating "We have solutions to eliminate the effects of climate change and achieve food security".
Rawya Mansour stressed that women are the most affected by climate change, especially since approximately 40% to 80% of agricultural production is by female farmers, adding that the most obstacle facing women is the climate change crisis, especially since they can't get the loans needed for transitioning to safe cultivation or own any land, which begs the need to give them access to micro-loans and land ownership rights.
She praised the activities of Women's Day at the Climate Conference and how she prides the great efforts made on this day, pointing out that Sharm El-Sheikh has become superior to many international cities and brings honor to Egypt. She also praised the pavilion of the National Council for Women at the conference and the products presented by women as they reflect the extent of ingenuity and professionalism known for women.
The National Council for Women participated in a special pavilion in the Green Zone within the activities of the COP27 climate conference, which was hosted by Egypt in Sharm El-Sheikh.
The Council's pavilion included a display of eco-friendly products by 41 Egyptian women from all Governorates, products from the National Project for the Development of the Egyptian Family workshops, and handmade products within the framework of the "Addressing economic motives for illegal immigration" project, in collaboration with the European Union. The total number of products was nearly 5000 pieces.
Furthermore, the Council's pavilion showcased many products, including environment-friendly bags made of tamping cloth, mesh and wooden bags, crochet with different designs, products of different carpets and frames of macrame with an Egyptian heritage character, fabric pillows and linen, products of macrame and cotton inlaid with other materials, including wicker, bamboo and burlap, hand-embroidered fabric products, natural leather products, cotton and wool products, wooden decorative pieces inspired by different cultures, and products from Recycled materials, products for interior decoration, wicker and Arjun products with an Egyptian heritage character, fashion from linen and cotton materials with designs inspired by the Egyptian heritage, carpets inspired by heritage, silver jewelry and other products inlaid with silver, all with heritage designs, ornaments made of copper and others made of silver, candle products for lighting, products from recycled denim fabrics, skin and hair care products and cosmetics from natural materials.