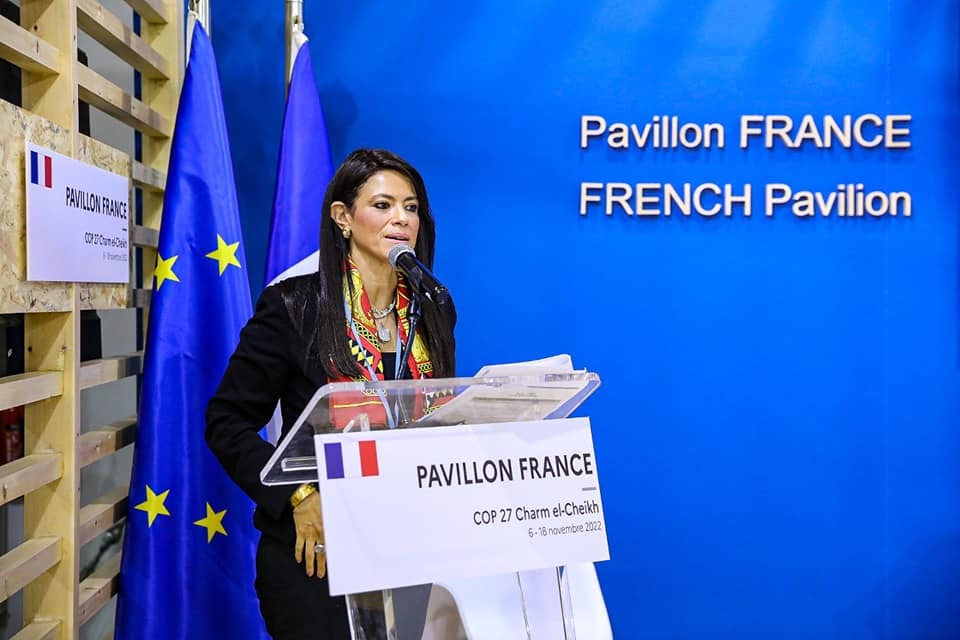 The Minister of International Cooperation participates in events of the French Government and the World Trade Organization World Economic Forum
Egypt has a clear strategy to tackle climate change and at the heart of it is a "Noufi" program to move from commitments to implementation
Sharm El-Sheikh Fair Funding Guide lays out innovative framework to stimulate climate financing
Dr. Rania Al-Mashat, Minister of International Cooperation, participated in several discussions and events with the launch of the climate conference COP27, which is being held in Sharm El-Sheikh in the presence of world leaders and the international community, chaired by Egypt under the slogan "transition from commitments to implementation".
Dr. Rania Al-Mashat, Minister of International Cooperation, participated in the session organized by the French Government in the French Wing within the Blue Zone, at the COP27 climate conference, on stimulation of climate financing in the Mediterranean region, with the presence of Mrs. Chrysoula Zakaropolo, Minister of State for Development and WA For Francophonie and State Partnerships with the French Government.
In her speech, Dr. Rania Al-Mashat, emphasized the power of French-Egyptian relations to stimulate joint development efforts, empower the private sector and youth, and stimulate innovation through development cooperation relationships.
Egypt has a clear and defined national strategy for climate change, and at the heart of this strategy comes the "Noufi" program's national platform, which mobilizes various funding mechanisms to stimulate private sector investments and increase participation Failure in development efforts, stimulating the transition to the green economy, noted that the French government One of the two development partners co-funding this platform to promote inclusive and sustainable development efforts.
Roundtable of World Trade Organization and United Nations Trade Conference
Dr. Rania Al-Mashat, Minister of International Cooperation, also participated in the roundtable organized by the United Nations Conference on Trade and Development "ONCTAD" and the WTO World Trade Organization, on stimulating the green transformation through global investment and trade, which was witnessed by Ms. Rania Al Mashat. Ngozi Oela, Director General of the World Trade Organization, also virtually shared by Mrs. Rebecca Greenspan, the Secretary UN Trade Conference Year 'UNTCAD' and many officials
In her speech, Dr. Rania Al-Mashat, Minister of International Cooperation, confirmed that about 26% of carbon emissions come from trade activities in developed countries, signaling that funding is an important focus to work on to stimulate climate financing and reduce emissions. Green of the trade process.
Egypt is already making consistent efforts to transform to a green economy, several expansion agreements signed in green hydrogen production through constructive partnerships between the government and private sectors, and available political will, the Minister of International Cooperation. That models of such partnerships are always required for preparation Trade and value chains in developing countries
Between the Glasgow climate conference and Sharm El-Sheikh, increasing awareness of the importance of a place in order to stimulate discussions on climate action, governments must also devise clear strategies to tackle climate change and implement their nationally determined contribution, which Egypt did. To do where strategy 2050 was launched and at the heart of it was done Launch of the National Platform for Green Projects, "Novfi" program, to stimulate the transition from the commitment phase to the implementation phase.
World economic forum discussion
During her participation in a panel session organized by the World Economic Forum WEF, on private, governmental and nonprofit partnerships to rally climate finance, Dr. Rania Al-Mashat, Minister of International Cooperation, emphasized the importance of non-profit organization participation to To profit through its available resources in stimulating climate action in partnership between the public and private sectors.
The Ministry of International Cooperation pointed out the Ministry's launch during Finance Day, the "Sharm El Sheikh Fair Fund Guide," which sets out a framework to encourage fair transition and boost climate financing, which was prepared by coordinated efforts between more than 100 development partners and non-profit organizations. And the private sector and international financial institutions.
Participated in the session alongside Minister of International Cooperation Mrs. Jim Huay Neo, Executive Director of the World Economic Forum Centre for Nature and Climate, and Mr. Mason Wallac, Executive Director of ClimeCapital.