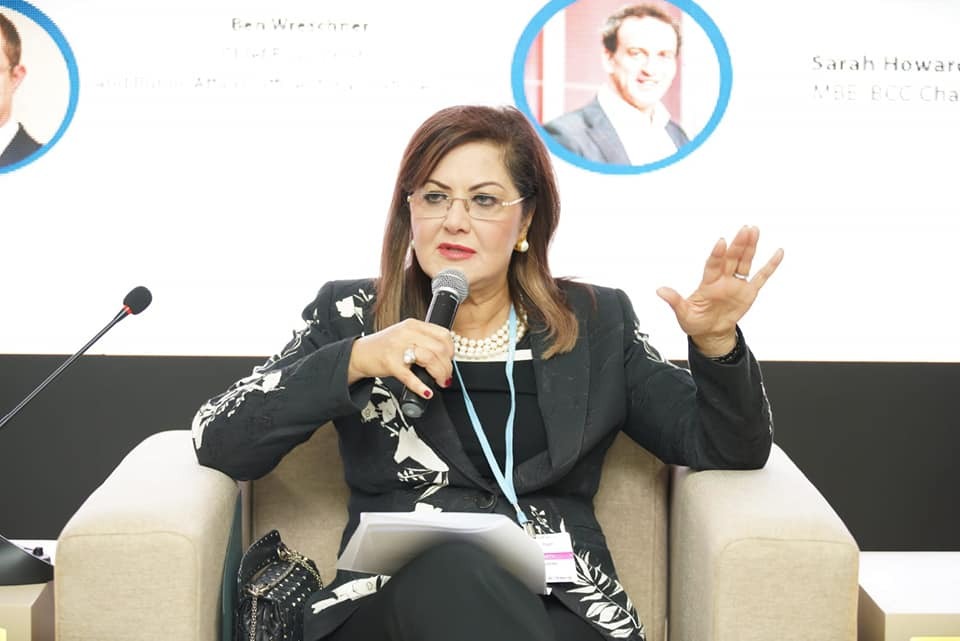 Sharm El Sheikh on 9 November 2022
Dr. Hala Al-Saeed, Minister for Planning and Economic Development, recently participated in the BEBA/EBCC Business Forum titled "The Road to the Green Economy: Together with COP27", held within the events of the conference of the parties to the UN Framework Agreement on Climate Change COP27, and The headquarters in Sharm El-Sheikh city during the period from November 6-18, in the presence of a number of presidents The countries of the world, and a wide international participation in the presence of more than 40 thousand people representing about 190 countries, and dozens of international and regional organizations.
In her participation, Dr Hala Al-Saeed confirmed that COP 27 provides a unique opportunity for stakeholders to continue developing the climate finance vital file and enhance communication among all stakeholders to participate in creating investment opportunities to support key global issues a.
Happy pointed out the need to increase climate funding by at least 590% to $4.35 trillion by 2030 – to meet the internationally agreed climate goals and avoid the dangerous impacts of climate change; thus achieving a real economic impact.
The Minister of Planning and Economic Development also reaffirmed the Egyptian government's interest in forming partnerships, attracting an increasing number of companies from large and small, and discussing solutions it offers to promote climate action.
The Egyptian government has taken a number of innovative policies that have been implemented in this regard through a participatory approach, which helps create a conducive environment for climate action, referring to the "Environmental Sustainability Standards" guide aimed at representing women Green projects 40% of total investments General in the 2022/2023 plan, and it is also targeted to increase this percentage to 50% by 2024-2025.
Egypt launched last May its National Climate Change Strategy, which aims to strengthen innovative financing mechanisms that prioritize adaptation measures such as green bonds, as well as boosting the private sector participation in climate financing and boosting jobs, added Al-Saeed.
Egypt is the first country in the Middle East and North Africa region to launch $750 million 'green bonds' to replenish resources for green projects especially in clean transport, citing Egypt's private sector's readiness to launch 'private green bonds' worth between 120 – 200 million dollars.
Egypt continues to utilize many policy tools to help attract private sector capital toward climate opportunities, especially by expanding the list of companies eligible for tax benefits under the Investment Act, explained by the government Provides a range of well-targeted stimulus to support the economy Green, including green hydrogen production, waste management, recycling systems, and energy-saving projects.
Al-Saeed followed that Egypt's Sovereign Fund was working hard to crowd private sector investment in renewable energy, green hydrogen, green ammonia and water desalination, a sign that Egypt is aiming to become a green energy hub, which will require significant investments from the sector Private, referring to the role of the sovereign fund in this regard.
About the presidential initiative "Hayat Karimah", Dr. Hala El-Saeed said it aims to improve quality of life in rural areas, where 58% of the Egyptian population is targeting interventions to improve infrastructure, create decent job opportunities, and provide education and public health services, said E To be listed on United Nations platforms by the Department of Economic Affairs Socialism as one of the accelerators to achieve sustainable development goals, assuring that the initiative not only contributes to economic preparation, but also addresses the issues at hand in a comprehensive and multidimensional manner thereby creating a green ecosystem, a sign of the launch of the "Generous Living for Africa Initiative" Able to adapt to climate change" during COP27, to improve quality of life 30% of Africa's most vulnerable and poorest villages and rural areas by 2030 in a climate-sensitive way.