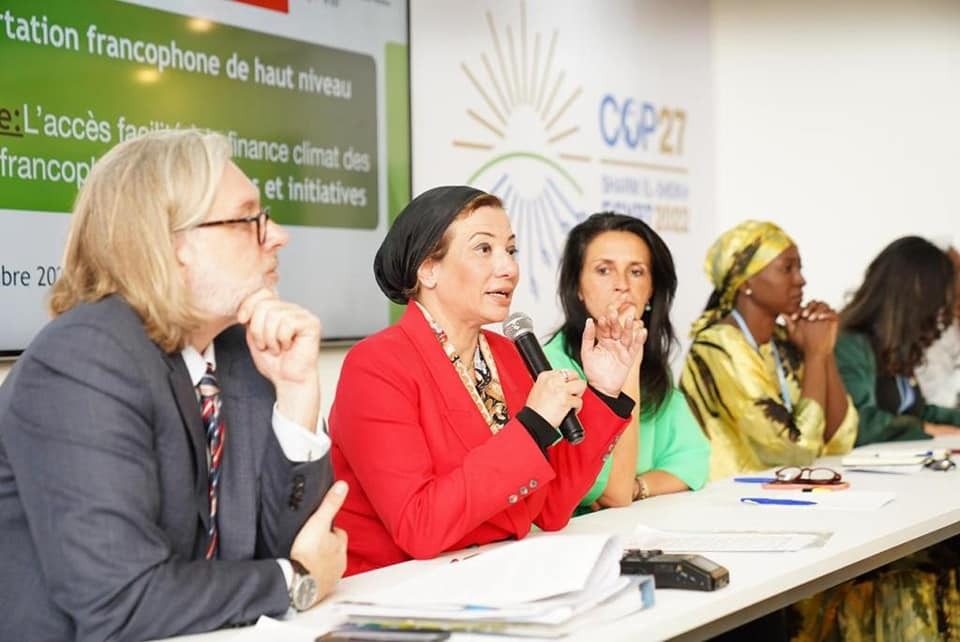 Dr. Yasmin Fouad, Minister of the Environment, Ministerial Coordinator and Envoy of the COP27 Climate Conference, participated in the event of the Framework Memorandum of the Higher Consultations at the Francophonic States under the title "Easy Access to Climate Finance for Francophonic Countries." Scenarios and initiatives", in the presence of Mr. Jeffrey Monpett, Director of the International Organization of Francophonie, Ministerial Advisory of the Francophonie Organization, and a number of ministers of the environment.
Speaking on behalf of Africa, which only reaches 3 of annual climate funding, the Minister of the Environment cited Egypt's interest in the affairs of Francophone countries, including a large number of African countries, mentioned only 4% of annual climate financing, according to a report of 4/2017, which estimated about $22 billion allocated to the southern Af Desert. Riqia, clearly that 80% of humans Around the world those without access to electricity in 2020 are based in Africa, highlighting the inevitability of the continent's access to climate finance and the need for developed countries to work on carbon neutrality solutions, following the current Climate Policy Initiative report the true appreciation of available climate funding is for Nationally and internationally, it is $ 1 million. This represents 60% of what Africa actually needs to implement its plans from 1920 to 2020.
Africa's real needs to cope with the effects of climate change are estimated to range from October, the minister pointed out. 1 3 and @TAG. 6 1 Trillion by 2020, these figures show that the challenge in the engineering and construction of climate financing is not in quantity but in the availability and ensuring the continent's reach, which requires overcoming the gap between needs and climate financing response, the lesson is not in providing the $5 billion climate pledge, But looking back at the way it was built Climate funding from 2020 to 2019.
Dr Yasmin Fouad confirmed that reaching together for implementation requires several points in mind to meet Africa's right to climate finance, firstly looking at gaps in building climate finance such as the integration of easy-access climate financing mechanisms, building national capacity as an implementation, and research About innovative financing mechanisms.
The Minister reviewed Egypt's experience over the past years in building its climate financing model, increasing its share of climate finance resources, preparing the National Climate Change Strategy 2020 and updating the National Contribution Plan, and translating it into packages of projects to seek funding from partners Different, and link these bundles together through the bond of energy, food and water, which It is based on renewable energy mitigation and raising ambition to 500 Gigawatts, bank-funded targets, connecting them to food and water through private sector engagement, to reduce climate financing risks by linking mitigation and attracting investment and adaptive funding.
Egypt has prepared its climate investment plan to ensure that it is on the right track for climate financing, to create a financial model for Egypt that identifies risks, investment opportunities, promising sectors and obstacles, the minister added, and made sure that the private sector and international partners would be part of the implementation national contributions plan, also governmen…